Ein Event, das regionale Communitys eint
Geschrieben am 20.07.2021 um 14:25 Uhr.
Beim "Trip Across The Nations"-Event in Rail Nation gibt's wöchentliche Bonuscodes, wenn die Community fleißig ist.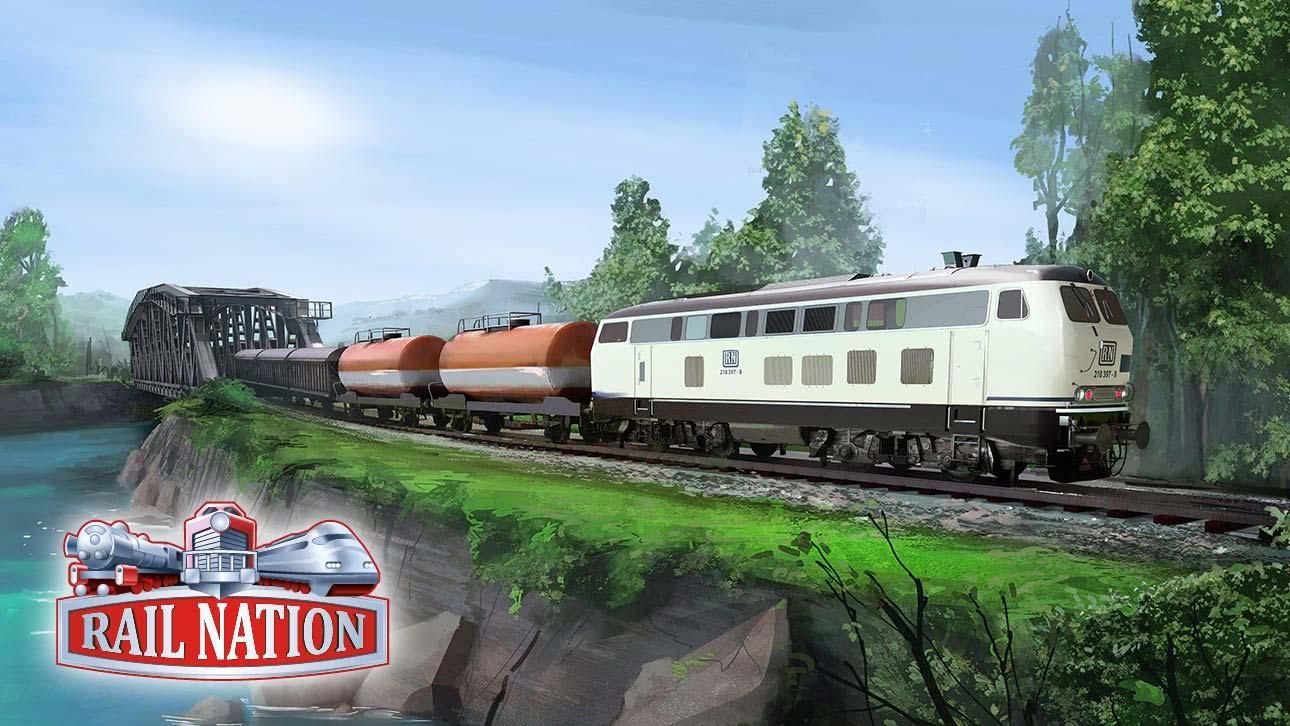 Es ist Zeit für das große Sommer-Event in Rail Nation. Na gut, noch nicht ganz, denn der Startschuss fällt erst am Freitag um 14 Uhr. Aber dann steht die kostenlose Wirtschaftssimulation ganz im Zeichen des "Trip Across The Nations"-Events. Auf den regionalen Discord-Kanälen und im Forum wird eine Meilensteinkarte veröffentlicht, auf der mehrere berühmte Wahrzeichen eingezeichnet sind. Jedes steht für eine regionale Community und wird freigeschaltet, indem die Spieler aus der entsprechenden Region bestimmte Aufgaben erfüllen.
Damit es Belohnungen für alle Spieler von Rail Nation gibt, müssen sämtliche Meilensteine auf der Karte erreicht werden. Erreicht also eine regionale Community ihre Ziele nicht, gibt es auch keinen Gewinn. Das "Trip Across The Nations"-Event läuft bis zum 13. August und jede Woche gibt es eine neue Karte, neue Aufgaben und neue Belohnungen. Letztere schaltest du dann per Bonuscode in Rail Nation frei. Was genau dich erwartet, entnimmst du der nachfolgenden Liste. Schaffst du es, der Spieler zu werden, der am meisten zu dem Event beiträgt, wirst du der Community-Lokführer des Monats Juli.
Woche 1: Bonuscode-Freischaltungen – Frist – 30. Juli
24 Stunden PLUS-Account
3 Schienen-Gutscheine
3 Lose
Woche 2: Bonuscode-Freischaltungen – Frist – 6. August
48 Stunden PLUS-Account
3 Lok-Gutscheine
3 Lose

1 Bonuslok-Upgrade
Woche 3: Bonuscode-Freischaltungen – Frist – 13. August
72 Stunden PLUS-Account
5 Lose
3 Lok-Gutscheine
3 Waggon-Gutscheine
1 Bonuslok-Upgrade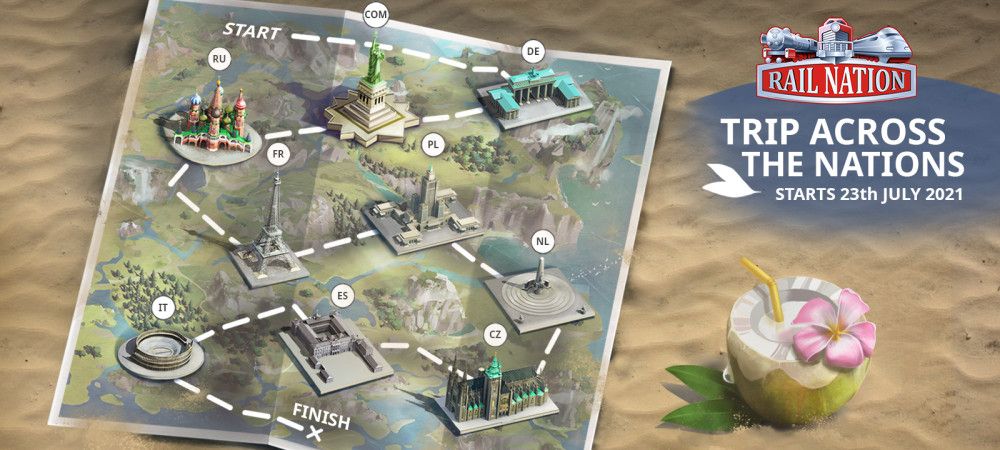 Was für Aufgaben die Meilensteinkarte mit sich bringt, ist noch nicht bekannt. 
Rund um Rail Nation startet nun noch eine zweite Aktion, die dir vielleicht bekannt vorkommt. 2017 hat Entwickler Bright Future sie schon einmal veranstaltet. Damals wollte das Team Postkarten aus aller Welt haben und so ist es auch diesmal. Reisen sind ja wieder möglich, wenn auch nicht für jeden. Und manche Leute wollen auch gar nicht im Sommerurlaub wegfahren. Bright Future hat hierfür vorgesorgt: Du kannst dem Studio trotzdem eine Postkarte schicken, wenn's sein muss eben auch eine digitale. Die Vorlage gibt es auf der Webseite von Rail Nation. Du brauchst sie dann nur noch ausfüllen und an rnpostcards@railnation.de schicken. Wer eine physische Karte verschicken möchte, gibt die folgende Adresse an:
Bruno – Game Designer
Bright Future GmbH
Gustav-Heinemann-Ufer 56
50968 Köln
Deutschland
Jener Game Designer Bruno wählt in einem Livestream im August (genaues Datum noch unbekannt) die fünf besten Postkarten aus und ein Gewinner wird zum Comunity-Lokführer des Augusts ernannt.