Geschrieben am 03.01.2019 um 10:50 Uhr.
Mit dem Wikingerdorf wird heute ein neues spannendes Feature in Forge of Empires veröffentlicht.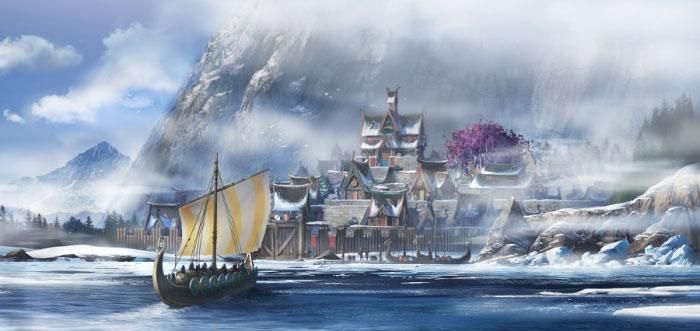 Wenn du zu den Spielern gehörst, die im Aufbauspiel Forge of Empires die Zeitreise so gut wie abgeschlossen haben, freut es dich sicher zu hören, dass es von heute an nigelnagelneue Herausforderungen im Spiel geben wird: Ab heute hast du nämlich die Möglichkeit, neben deiner Hauptsiedlung das Wikingerdorf als erste kulturelle Siedlung aufzubauen. 
Das neue Feature wird für alle Spieler aktiviert, die das Pflügen in der Eisenzeit freischaltet haben. Am Rande deiner Hauptstadt wird ein Boot erscheinen, das dich zum neuen Wikingerdorf führt. Dort begegnest du Ragnar Lodbrok, der dich um Hilfe beim Ausbau des Wikingerdorfes bittet. Wie auch in deiner eigenen Siedlung baust du Gebäude auf, sammelst Ressourcen und sicherst dir eine Belohnung nach der anderen. Indem du dir das Vertrauen der Wikinger erspielst, erhältst du mehr Diplomatie, dank der du weitere Gebäude freischaltest. Dazu gehören etwa Wohngebäude wie das Stammeshaus, Kulturgüter-Bauten wie die Met-Brauerei oder ein Stammestotem und die Met-Halle als Diplomatie-Gebäude. Doch zum Errichten weiterer Bauwerke brauchst du natürlich Wikinger, die dir zur Seite stehen und dich tatkräftig unterstützen. Kupfermünzen, Äxte, Met, Hörner und Wolle zählen in der Wikingerwelt ebenso zu den wichtigen Ressourcen, mit denen du die Entwicklung der Siedlung vorantreibst. Wenn du alle Quests abgeschlossen hast, wird dein Fortschritt zurückgesetzt, während du dich über wertvolle Belohnungen freust. Dazu zählen etwa der Baum Yggdrasil mit insgesamt neun Entwicklungsstufen, aber auch ein Runenstein mit insgesamt fünf Stufen, sofern du die Quests zügig abarbeitest.
Das Besondere an den kulturellen Siedlungen ist, dass du sie mehrmals durchspielen kannst und das auch machen solltest, um an alle Belohnungen zu kommen. Dazu zählen nicht nur die Ausbau-Kits für den hübschen Baum, sondern auch Botschafter, die du anschließend in deinem Rathaus platzierst, damit sie dir besondere Boni bescheren. Damit beim mehrmaligen Durchspielen keine Langeweile aufkommt, werden unbewegliche Hindernisse auf der Karte immer wieder neu platziert, um dir den Dorfausbau nicht zu leicht zu machen. So musst du jedes Mal aufs Neue die Gebäude anders positionieren.
 
Quelle: InnoGames