Adventskalender mit täglichen Gewinnspielen
Geschrieben am 03.12.2018 um 10:45 Uhr.
Der Adventskalender von Forge of Empires ist vollgestopft mit Gewinnspielen, bei denen du dein Hirn anstrengen musst.

Spieler von Forge of Empires können jeden Tag bis Heiligabend was gewinnen, wenn sie denn stets im offiziellen Forum des kostenlosen Aufbauspiels vorbeischauen. Der Hamburger Entwickler InnoGames hat sich einiges für den Adventskalender zum beliebten Online-Spiel einfallen lassen. Hinter jedem Türchen findest du ein Gewinnspiel mit einem Rätsel. Heute zum Beispiel gilt es, in einem Suchbild bestimmte Begriffe zu finden. Die Buchstaben, die übrigbleiben, bilden eine Frage. 

Die Antwort darauf postest du in dem Forenbeitrag zum 3. Türchen, um am Gewinnspiel teilzunehmen. Unter allen Teilnehmern wird ein Paket mit 50 Gütern verlost. Welche das genau sind, hängt davon ab, in welchem Zeitalter sich der Gewinner in Forge of Empires befindet.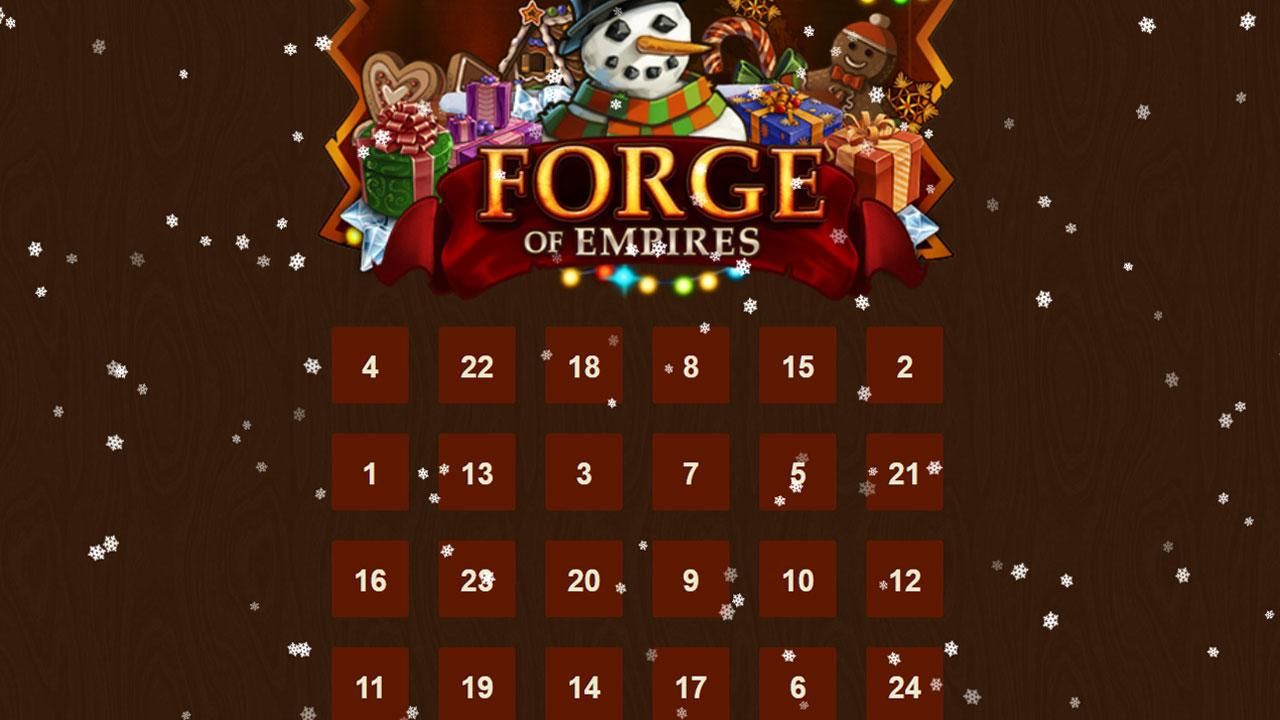 Ein Kalender voller Gewinnspiele und damit auch Chancen auf tolle Preise - das gibt's im Forum von Forge of Empires.
Um an den Gewinnspielen teilnehmen zu können, brauchst du logischerweise einen Account für das Forum des Strategiespiels. Dessen Name muss mit dem deines Spielkontos übereinstimmen. Sollte das nicht der Fall sein, kannst du dich an den Support von Forge of Empires wenden und die Namen angleichen lassen. 

Es erklärt sich von selbst, dass jedes Gewinnspiel nur einen Tag lang läuft. Wenn du heute nicht die Chance ergreifst und das Lösungswort für das oben erwähnte Rätsel im Forum postest, verfliegt sie. Dabei lohnt es sich, kein Adventskalendertürchen auszulassen. Die Spieler, die alle Rätsel lösen, haben am Ende die Chance auf einen Spezialpreis. Was das sein wird? Keine Ahnung, das bleibt vorerst eine Überraschung.

Solltest du neben Forge of Empires auch noch Elvenar spielen, haben wir noch eine gute Nachricht für dich: Zu jenem Fantasy-Spiel von InnoGames gibt es auch einen Adventskalender im entsprechenden Forum. Der enthält aber keine Gewinnspiele, sondern beschert dir direkt kleine Goodies, heute etwa einen schicken Wallpaper.
Quelle: InnoGames