UPDATE: Set-Gebäude des Winter-Events per neuem Update
Geschrieben am 05.12.2017 um 17:22 Uhr.
Die neuen Set-Gebäude des Winter-Events von Elvenar werden mit dem nächsten Update eingeführt.

Update vom 05.12.2017: Eigentlich hätte man erwartet, dass die neuen Set-Gebäude, die die Hauptbelohnungen des aktuellen Winter-Events sind, mit dem Start des In-Game-Ereignisses im Spiel gelandet wären. Doch wie die Ankündigung der Aktualisierung von Elvenar auf die Version 1.44 zeigt, ist das nicht der Fall. Denn erst mit jenem Update am Donnerstag werden die Bauwerke implementiert. Das gilt sowohl für die Browser- als auch Mobile-Variante. Das ist dann aber auch die einzige große Neuerung. Ansonsten gibt es vor allem Bugfixes. Kampfeinheiten werden künftig nicht mehr unsichtbar sein, wie es aktuell ab und zu der Fall sein kann. Außerdem dürfte nach dem Update die Turnierrangliste bei allen Spielern angezeigt werden.
Für die Mobile-Version von Elvenar gibt es zumindest noch eine kleine Anpassung: In Ladebildschirmen wird es in Zukunft stets per Symbol angezeigt, wenn du keine Internetverbindung hast. Außerdem wirst du in der Kaserne Informationen zu Einheiten erhalten, die du noch nicht erforscht hast. Das fehle bislang noch und sei so nicht beabsichtigt.
Originalmeldung vom 04.12.2017: Der erste Schnee des Jahres ist bereits gefallen. Da wird es doch Zeit, dass auch in Elvenar der Winter beginnt. Nachdem in Forge of Empires bereits in der vergangenen Woche die kalte Jahreszeit eingeläutet wurde, zieht das Fantasy-Spiel des Hamburger Entwicklers und Publishers InnoGames heute nach. Dessen Winter-Event dreht sich um drei Eisriesen. Die haben sich aus dem Eis geformt der Gletscher in den Bergen geformt und laufen nun durch die Welt. Die Yetis, die in dem Gebirge leben, sind nicht nur erstaunt, weil sich somit eine alte Legende bewahrheitet hat, sondern auch erfreut. Denn durch das Schmelzen der Gletscher wurden viele wertvolle Schätze freigelegt. Umso mehr sind die Yetis dazu motiviert, die Riesen bei ihrem Vorankommen zu unterstützen. Und du kannst den Fellträgern dabei helfen.
Das Winter-Event besteht aus einer ganzen Reihe an Quests, die es zu lösen gilt, wenn du schicke Belohnungen haben willst. Und wer kann dazu schon Nein sagen? Zumal sich unter den Preisen auch die ersten Gebäude befinden, die in Elvenar ein Set ergeben. Wenn du jene Bauwerke in deiner Stadt so platzierst, dass sie direkt nebeneinanderstehen, verstärkst du damit ihre Boni. Unter anderem lässt sich so die Produktionsrate der Gebäude erhöhen, vielleicht schaltet es aber auch weitere Produktherstellungen frei. Diese Mechanik gibt es in Forge of Empires bereits seit längerer Zeit und sich als sehr clever herausgestellt. Da ist es kein Wunder, dass InnoGames sie nun auch in Elvenar implementiert hat.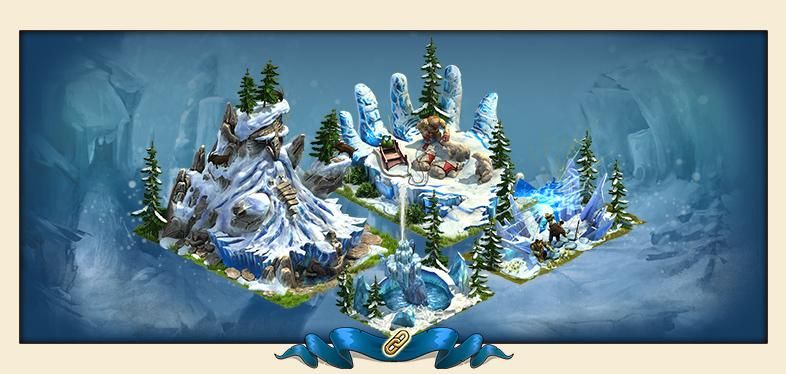 So sieht das komplette Set aus, das du beim Winter-Event erspielen kannst.
Nur wer fleißig die Quests des Winter-Events absolviert, wird alle Belohnungen und somit das komplette erste Gebäude-Set in Elvenar erhalten. Dafür bleibt dir aber auch ausreichend Zeit, denn das Event endet erst am 8. Januar.
Quelle: InnoGames